This is what you'll see on
Nelson Sullivan's
MAD ABOUT MANHATTAN
JOHN SEX: 2 BIRTHDAYS AND A CAB RIDE
John Sex was the most exciting entertainer in Downtown New York and had the best haircut too. He was admired by Andy Warhol, best friends with Keith Haring, and an abundantly creative entertainer who blended dance, rock and Broadway into a Las Vegas mini-spectacle. AIDS ended his sparkling career too soon; but, fortunately for us today, John was friends with Nelson Sullivan who videotaped many of John's fabulous nightclub shows. John is at his best both on and off the stage in this intimate video portrait by Nelson Sullivan.
FIORUCCI LOVES ANDY WARHOL
Michael Musto described Fiorruci as "disco dazzle combined with new wave posturing." This trendy boutique near Bloomingdale's was a must-shop for the fashion forward especially when Joey Arias was working the floor. On Valentine's Day 1986, Andy Warhol was the special attraction, autographing his newest photography book "America." All during the signing session, Andy took snapshots, and prints of these later sold for $26,000 each. Nelson videotaped the event close-up - looking over Andy's shoulder.
KEITH HARING: INTO 1984
Keith Haring first gained fame with his "crawling baby" graffiti that decorated Downtown. He believed in art for everyone. In his artist studio off Canal Street, filled with his giant paintings all over the space Keith hosted a New Year's Eve party. John Sex invited Nelson to videotape the party "Into 1984", the year Keith's fame would skyrocket to stratospheric heights.
FROM TIMES SQUARE TO EAST VILLAGE
Lahoma van Zandt and Judy LaGrange made a scene on Times Square and RuPaul begged for quarters on East Villlage streets on this day that Now Explosion came from Atlanta to promote their talents to the people of New York. Nelson goes along as part of the show.
"DOWNTOWN" RECORDING SESSIONS
One day a bright idea happened to have the personalities of Downtown get together to make a record to benefit the fight against AIDS. On a later day the Club Kids joined their predecessors The Celebutantes to become a mass choir singing Petula Clark's "Downtown". The record itself didn't turn out to be that good, and the money raised was small; however, the recording session itself was really fun.
BONUS CLIP
John Sex's Music Video "Rock Your Body" a colorful live action/animation masterpiece from director Richard Metzger and costarring the Bodacious Ta-Tas Wendy Wild and April Palmeri.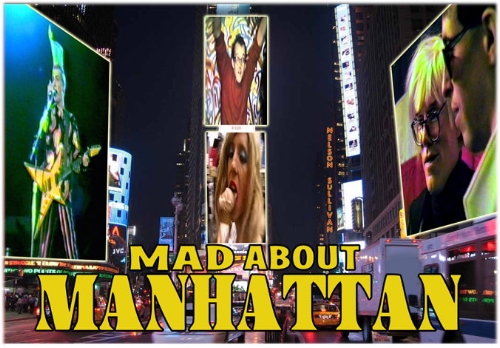 $35.00 (includes free shipping worldwide)