Nelson Sullivan was an eyewitness to the Out Gay Culture that emerged during the worst of the AIDS crisis in 1980s New York City.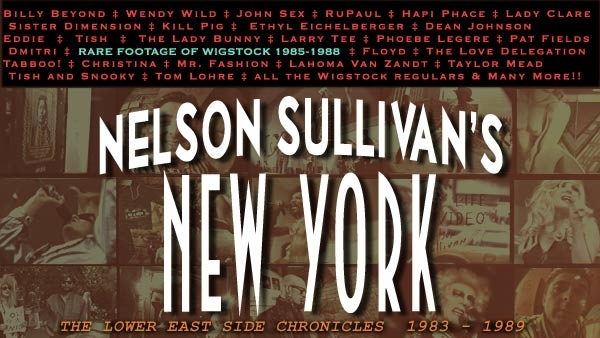 Nelson Sullivan was in the center of a swirl of creativity that swept through Downtown New York in the 1980s. Fortunately for us today, he was there with his video camcorder creatively documenting the entertainment, the personalities, and the places that produced some of the most exciting stars of today.

Nelson has been described as the "Proust and Nureyev of the cinematograph." Nelson died suddenly of a heart attack on July 4, 1989, but he left behind a treasure of video, clips from which you can enjoy right here.
The Fabulous World of Nelson Sullivan - preserved on videotape
click on the image to watch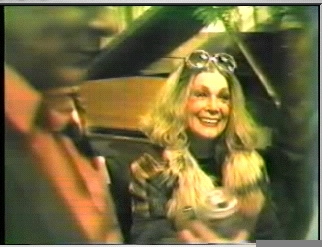 The beautfiul Sylvia Miles at the Chelsea Hotel's 100th Birthday Party.
Nelson honors RuPaul with at party at 5 Ninth Avenue
Deee-lite performs at the Funtone USA Party.




The one-and-only John Sex

.
'Nelson & Christina' and 'Amnesia at Gay Day" - 2 videos produced by Robert Coddington from the videos of Nelson Sullivan - will be screened at the 2007 Newfest Gay and Lesbian Film Festival in New York City.
Click Here for the Newfest Screening Information
THE NEW NELSON SULLIVAN DVD


AVAILABLE ONLY IN EUROPE



Click Here To Watch
Monologue for TV Show
from the new European DVD Nelson Sullivan Volume # 1
The Climage Group of Lausanne in association with Points de Vues of Paris recently released the first of 2 Volumes of Nelson Sullivan's videos. The 2nd volume is scheduled to appear in the Spring of 2006. Volume 1 includes Nelson's Monologue for TV Show - the television program Nelson was preparing to launch, until his sudden death 2 days after this video was recorded stopped that. Nelson's flowing style is of particular interest to the European visual artists. For more information about this new DVD, visit the Climage website.

On November 19, 2005, in Sao Paulo Brazil, the Festival Mix Brasil premiered a new mulit-screen presentation of Nelson Sullivan's videos of New York's spectacular nightlife of the 1980s. Entitled "We're All On The List" and produced by Robbie Coddington, this 70 minute visual treat sweeps its viewers past the velvet ropes into the trendiest of nightclubs with the VIP treatment few in the real world can expect. Offered here is one dazzling glimpse from that presentation especially for you to enjoy.

You need quicktime 7.0.3 for this video to play (but not for the other ones on this site).



Click Here for the Festival Mix Brazil website




International Chrysis, Leigh Bowery, James St. James


Click Here to Watch
Susanne Bartsch's Party
for Leigh Bowery at Bentley's
WHAT A TREAT!




David, co-captain of America's most sparkling magazine PAPER, just wrote a fun blog about Nelson. Here's one of Nelson's videos of PAPER's sparkling presentation celebrating their 5th anniversary at Susanne Bartch's Love Ball at Roseland.

Click Here To Watch
Paper's
Love Ball Presentation
featuring Joey Arias





Nelson Sullivan's Journal Intime was a feature in the Paris Gay and Lesbian Film Festival October 14-23, 2005
Two of Nelson's Favorites

Nelson loved so much going to the restaurant 7A, at the corner of Avenue A and 7th Street in the East Village a few doors down from the Pyramid Club. There the celebrities of the East Village would gather for food or visiting and almost everybody they wanted to see might come walking by.

Nelson also loved his Aunt Nancy very much. She resided in Kershaw SC, Nelson's childhood home, and lived a solitary existence entertaining herself by riding around in her Pontiac drinking a Sprite or a Pepsi Cola.

As these 2 Nelson videos show, even the simplest things can bring remarkable joy.



Click Here To Watch
An Afternoon at 7A


Click Here To Watch
A Ride With Aunt Nancy




See how Nelson applied his talent in this mini-documentary by acclaimed independent filmmaker Laurie Weltz





Nelson Sullivan has been an engaging subject for many prominent writers. Some of the most informative of their articles are available online for your illumination.
| | |
| --- | --- |
| | Nelson was with the Club Kids from the start. |
(click here to see the invitation that started it all)
Goofin' Around At The Pyramid

Those Club Kids can have fun anywhere - even (or maybe especially) in the loo. In this video clip, you'll do some late-night hanging out with Michael, James, Keoki, Larry Tee, and and all those other fun people they meet just goofin' around.



Click Here To See
Goofin Around At Pyramid
The Lady Bunny

Hey - it's the 20th Anniversary of the arrival of Lady Bunny in New York City in 1983 and now she's a legend there. She and Nelson were video companions when she got off the bus, and they bickered off and on ever since. This is the mini-movie they made one afternoon. Also staring are Bubblicious and Lurleen Wallis. The music's Now Explosion's. BTW: Lady Bunny is touring America this Spring 2003 with the Absolut Out draq queen revue.
produced and edited by Nelson Sullivan June 26, 1985
Click Here to watch
Lady Bunny starring in Bunny Chase
Michael Musto and Albert Crudo

Michael Musto has been going from chic event to sleeze event with

Albert Crudo

for it seems like ages since his informative gossip column began in the Village Voice and even before. They always asked Nelson to accompany them for entertainment and for the videotaping too. This video is a collaboration as well as an incarnation of what an actual conversation in the 1980's could be like.
videotaped and edited by Nelson Sullivan April 12, 1987
Click Here to watch
A Coupla White Ninja Vixens Sitting Around Talking
If you need to know more about Nelson Sullivan or the Nelson Sullivan video collection, e-mail Funtone USA.